Floradix With Iron Tonic, 700 ml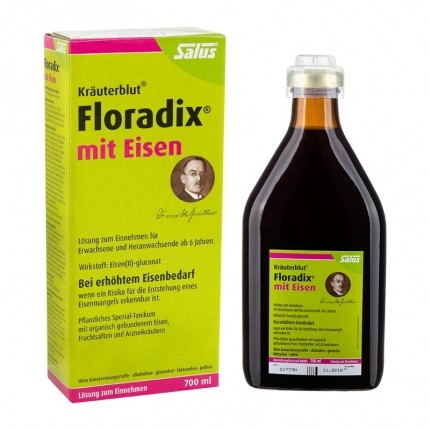 Floramed iron tonic is designed to meet increased iron requirements such as in times of pregnancy or for people following a vegetarian diet

More …
Lactose Free
Gluten Free
Preservative Free
Dye Free
No Added Sweeteners
No Sugar Substitutes
Vegetarian
Yeast Free
Floradix is a traditional producer for natural herbal products used as an alternative to commercial pharmaceutical products.
The micro element iron contributes to the formation of red blood cells and hemoglobin and aid the oxygen transportation in the blood, the immune system and the cell division. In certain times of life such as pregnancy the body's need for iron is augmented and thus pregnant women should be aware of maintaining a healthy and stable iron intake. Floradix Iron tonic is also designed for people with fatigue and tiredness, for athletes and people that suffer from chronic diseases. Additionally it is recommended to supplement in iron for people following a vegetarian or vegan diet.
Iron supplementation should only be used with a defined recommendation by a physician.
Expert tip:
The consumption in combination with Vitamin C enhances the Iron absorption. Milk, coffee, tea, zinc or calcium influences the absoprtion in a negative way.
Ingredients:
iron-II-gluconate, Iron (II) ions, ascorbic acid, hibiscus flowers, bitter fennel, carrot, Mercurial rootstock, yarrow, angelica root, Horsetail, Plantain leaves, juniper berries, Chicory root, Bitter orange peel, water, yeast autolysate, Red grape juice concentrate, Cherry Juice Concentrate, Pear Juice Concentrate, Blackberry juice concentrate, Blackcurrant Juice Concentrate, honey, Rosehip soft extract, fructose syrup1, Aroma (orange flavour, orange flavour), water

1 70 %
Alergens or special properties:
Contains inverted sugar and fructose.

Lactose Free
Gluten Free
Nutrient specification
Per 100 g
Per portion (15 ml)
% of reference value per portion (15 ml)
Energy
-
-
-
Fat
-
-
-
of where:
Saturated Fatty acids
-
-
-
Carbohydrates
-
-
-
Roughage
-
-
-
Protein
-
-
-
Salt
-
-
-
OTHER
Iron (II) gluconate
703,3 mg
105,5 mg
-
Iron (II) ions
81,75 mg
12,26 mg
-
Recommended daily dosage:
15 ml
Directions for use:
Adults and children aged 10 years of age and upwards can take 3 x 15 ml  per day using the enclosed measuring cup.
Best served chilled 1/2 hour before meals
Children aged 6-10 years of age: 2 x 15 ml
Warnings:
To learn more about risk and side effect, read the packaging attachment and ask you doctor or pharmacist.
Our recommendation for you