BCAA capsules from nu3



Contains 4120 mg BCAA
BCAA in ratio 2:1:1
150 capsules
Additional L-arginine, L-alanine and vitamin B6
Made in Germany


BCAAs - Branched Chain Amino Acids
Branched-Chain Amino Acids represent the amino acids valine, leucine and isoleucine. Essential amino acids are not produced by the body itself. They must be supplied in the diet, primarily from protein sources.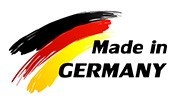 Made in Germany
The high quality of the nu3 Sports Power BCAA capsules can be attributed to their production in Germany. The production of the capsules is carried out according to the same strict rules as the pharmaceutical industry. Through continuous monitoring and documentation of the production process the consumer receive a safe end product of the highest quality .

How do BCAAs work?
The metabolism of BCAAs occurs directly in the muscles. Branched-Chain Amino Acids are in the first case used by the body for construction of protein structures. Around one third of the protein that make up muscles come from BCAAs.
Product Characteristics
No Sugar Substitutes

Preservative Free

No Added Sweeteners

Sugar Free

No Artificial Flavours

Gluten Free

Lactose Free

Yeast Free

No Added sugar
Ingredients
L-leucine, L-isoleucine, L-alanine, L-arginine hydrochloride, L-valine, gelatine1, sodium bicarbonate, Filler (Microcrystalline cellulose), Release Agent (Magnesium stearate), Colouring (E171), pyridoxine hydrochloride

1 capsule (beef)
Directions for use
Take 6 capsules, ideally 3 before and 3 after training.
Recommended daily dosage
6 capsules
Nutrition facts
Nutrient specification
Per 100 g
Per portion (6 capsules)
% of reference value per portion (6 capsules)
Energy
1600 kJ
382,41 kcal
119,68 kJ
28,44 kcal
-
Fat
&lt1 g
0,07 g
-
of which:
Saturated Fatty acids
&lt1 g
0,07 g
-
Saturated Fat
-
-
-
Carbohydrates
0 g
0 g
-
of which:
Sugar
0 g
0 g
-
Protein
94 g
7,03 g
-
Salt
2 g
0,15 g
-
Fiber
-
-
-
VITAMIN
Vitamin B6
19 mg
1,42 mg
101,51%
AMINO ACIDS
L-leucine
27 g
2,02 g
-
L-isoleucine
14 g
1,05 g
-
L-valine
14 g
1,05 g
-
L-alanine
14 g
1,05 g
-
L-arginine
12 g
0,9 g
-
Alergens or special properties
Our recommendation for you
More Information
nu3 Sports Power BCAA
Per product
Name

nu3 Sports Power BCAA

Item description

BCAA - capsules

For the dietary treatment of

-

Function

Dietary supplement for athletes during intensive muscle exertion, with amino acids and vitamin B6

Net weight

187 g

Dosage Form

Capsules

Best before end

See the bottom of the product

Brand

nu3

Country of origin

Germany

EAN

4260289444872

Label language

German, English, French, Italian, Norwegian, Swedish

Package insert / packing slip (PDF)

Not Available

Amount

150 capsules

Storage

Store in a cool, dry and dark place. Keep out of the reach of children.

Manufactured By

nu3 GmbH
Brückenstr. 5
10179 Berlin Germany
This product is classified under the following categories