Dr.Wolz Osteo Coral D3, 60 capsules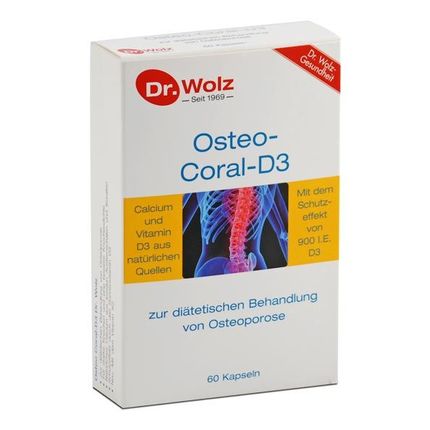 Dietary supplement for the treatment of osteoporosis.

More …
Preservative Free
Gluten Free
Lactose Free
Dye Free
Gelatin Free
Vegetarian
No Added Sweeteners
No Sugar Substitutes
Optimal vitamin-mineral combination for strong bones:
Easily absorbed by the body
Supports the integration of calcium into bones
Essential vitamins (D3, K2, B6, folic acid) and trace elements (calcium, copper, zinc, manganese, fluoride)
Ingredients:
coral powder, Oyster shell powder, vitamin K2, Zinc gluconate, manganese gluconate, vitamin D3, copper gluconate, vitamin B6, sodium fluoride, folic acid, cellulose1

1 Capsule shell
Alergens or special properties:
Nutrient specification
Per portion (3 capsules)
% of reference value per portion (3 capsules)
Carbohydrates
0 g
-
Fat
0 g
-
Protein
0 g
-
Energy
0 kJ
0 kcal
-
of where:
Saturated Fatty acids
-
-
Roughage
-
-
Salt
-
-
VITAMIN
Folic acid
400 μg
200%
Vitamin K
75 μg
100%
Vitamin D
22,5 μg
450%
Vitamin B6
2,8 mg
200%
MINERAL
Calcium
580 mg
72,5%
Zinc
5 mg
50%
Manganese
3 mg
150%
Fluorine
1 mg
-
Copper
1 mg
100%
Recommended daily dosage:
3 capsules
Directions for use:
Take 3 capsules daily before or with meals with some liquid. The content of the capsules can also be added to food (by pulling apart the capsules and emptying into the food).
Warnings:
Osteo-Coral-D3 Dr. Wolz is a balanced diet suppliment, not a food. Due to specialised dietary needs of affected patients the vitamin and mineral content is increased. Osteo-Coral-D3 Dr. Wolz may only be taken under supervision by a doctor.
Our recommendation for you