Recipes blogger challenge
To celebrate the launch of nu3 in the UK, we would like to see how British bloggers use our best-seller: the natural nu3 Goji berries.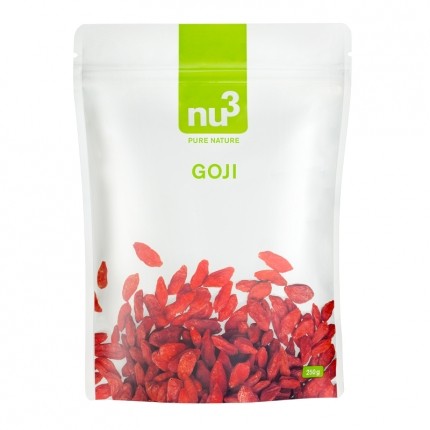 Participation
The challenge is about creating a recipe including the nu3 Goji berries. It can be anything and adapted to your specialty: Raw food, healthy meals, snacks, desserts and cakes, kid's meals or simply "on a budget".
- To enter the competition, you must confirm your participation before the 10th of February 2014.
- You will have until the Sunday 2nd of March 2014 to publish your recipe including the nu3 Goji berries on your blog.
Votes
Provide us with the link to your blog post and a picture of the dish you made with nu3 Goji berries so that we can share them on our Facebook page. nu3's fans, followers and your readers will be then invited to "like" the recipes they enjoy the most.
Votes will be counted over 2 weeks, until the 16th of March and the recipe with the highest number of likes will win the £100 nu3 voucher code.
The winner will be announced on Monday 17th of March.
Compensation
All participants will be rewarded with a 20% coupon code for nu3.co.uk.
Dates to remember
- Last day to confirm participation: Monday 10th of February
- Last day for entry: Sunday 2nd of March
- Last day to vote: Sunday 16th of March
Prize Draw Rules
1. Entry to the competition is restricted to one entry per blog.
2. Multiple entries will be disqualified
3. Automated entries, bulk entries or third party entries will be disqualified
4. Entry to the competition is restricted to blogs written in English
5. Goji Berries can only be sent to the counties stated on our FAQ page (question n° 3)
8. The Judges decision is final and no correspondence will be entered in to.
9. The competition will run from the 2nd of March until the 16th of March.
10. nu3.co.uk is compliant with the data protection act. Our policy is such that we will not pass on your details to any third party without your prior consent.
This promotion is in not sponsored, endorsed or administered by, or associated with, Facebook. Any questions, comments or complaints regarding the promotion will be directed to nu3, not Facebook.
Any questions regarding this contest should be directed to Annais Gueyte (annais.gueyte at nu3.de)